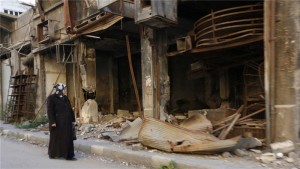 Syrian opposition groups say they are ready for UN-sponsored negotiations with representatives from the government, but insist that President Bashar al-Assad has to step down.
"The aim of the political settlement is to create a state based on the principle of citizenship without Bashar al-Assad or figures of his regime having a place in it or any future political arrangements," the group of rebel factions said in a statement issued at the end of two-day talks held in Saudi Arabia's capital city, Riyadh.
"Participants have insisted that Bashar al-Assad and his aides quit power with the start of the transition period," the statement added.
Hosted by the Saudi Arabia, the unprecedented talks between more than 100 representatives from armed and political opposition groups tried to unite the factions fighting against the Syrian government in the bloody conflict which has seen more than 250,000 people killed.
Full report at Al-Jazeera here